Integer vecter to binary vector converter block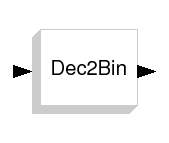 That block converts integer numbers in words of bits. Binary words are vectors of 0 and 1 and the input can be a vector of integer numbers. Then the output can be composed by several word of bits.
Given N the number of bits per integer and outsz the size of the output vector, the input vector size of the regular input port is outsz = insz * N.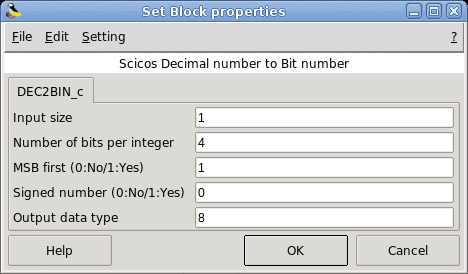 Input size
The size of the regular input port.
Properties : Type 'vec' of size 1.

Number of bits per integer
Sets the number of bit per integer.
Properties : Type 'vec' of size 1.

MSB first (0:No/1:Yes)
That parameter says if the first write bit is the Most Significant Bit or the Least Significant Bit. The default value is 1.
Properties : Type 'vec' of size 1.

Signed number (0:No/1:Yes)
Details if input integer numbers are signed number or not.
Properties : Type 'vec' of size 1.

Output data type
It gives the output data type. It can be :

1 double

3/4/5 int32/int16/int8

6/7/8 uint32/uint16/uint8
always active: no
direct-feedthrough: yes
zero-crossing: no
mode: no
regular inputs:
- port 1 : size [1,1] / type -1

regular outputs:
- port 1 : size [4,1] / type 8

number/sizes of activation inputs: 0
number/sizes of activation outputs: 0
continuous-time state: no
discrete-time state: no
object discrete-time state: no
name of computational function: dec2bin
MODNUMCOS/macros/scicos_blocks/Integer/DEC2BIN_c.sci [view code]
MODNUMCOS/routines/integer/dec2bin.c (Type 4) [view code]
A. Layec