Random Integer Generator block (old block)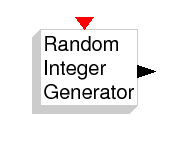 Generate random integers and binary numbers. This blocks is able to generate multiple vectors of integers or binary numbers and also sample-based data flow. These functions are enable with the dialogue parameters.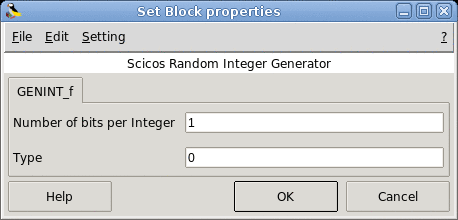 Number of bits per Integer
Type 'vec' of size -1. The length in bits of produced integers. You can enter a vector if you want generate vector of integer.

Type
Type 'vec' of size -1. The type of output. The size of this fields must be the same that the preceding.

0 Generate random Non Return Zero (NRZ) single bits. With this type, values put in the parameter 'Number of bits per Integer' are not taking into account but this dialogue parameter must always have the same size than the other parameter.

1 Generate random Return Zero (RZ) single bits or unsigned integers.

2 Generate random signed integers.

- Generation of a single sequential data-stream NRZ binary number :\\
Number of bits per Integer : \textbf{[1]}\\
Type : \textbf{[0]}\\
- Generation of double sequential data-stream RZ binary number : \\
Number of bits per Integer : \textbf{[1;1]}\\
Type : \textbf{[1;1]}\\
- Generation of three vectors of size 4 each of signed integers with 8-bits length :\\
Number of bits per Integer : \textbf{[8;8;8;8 ; 8;8;8;8 ; 8;8;8;8]}\\
Type : \textbf{[2;2;2;2 ; 2;2;2;2 ; 2;2;2;2]}\\
- Generation of two vectors, one NRZ binary number of size 256, one unsigned integers with 5-bits length of size 11 :\\
Number of bits per Integer : \textbf{[ones(256,1);5*ones(11,1)]}\\
Type : \textbf{[zeros(256,1);ones(11,1)]}\\
...\\
Don't forget to use Mux block to see multi-sequential datas in the CMSCOPE.\\
Use vectorial scopes VECTORSCOPE, VECTOMEMOSCOPE,... to directly see the vectorial datas.\\

always active: no
direct-feedthrough: no
zero-crossing: no
mode: no
regular outputs:
- port 1 : size [1,1] / type 1

number/sizes of activation inputs: 1
number/sizes of activation outputs: 0
continuous-time state: no
discrete-time state: yes
object discrete-time state: no
name of computational function: genint
MODNUMCOS/macros/scicos_blocks/Old/GENINT_f.sci [view code]
MODNUMCOS/routines/sources/genint.c (Type 4) [view code]
A. Layec