Discrete Symbol Integrator block

This block is a discrete symbol integrator. The integration is done over one symbol period and the state is re-initialized at zero for the first sample. During the integration the applied method is just a cumulative sum of all sample values over one period :








with y the output of the block, u the input and Ne the length of the symbol. The input and output port can be both scalar or vector.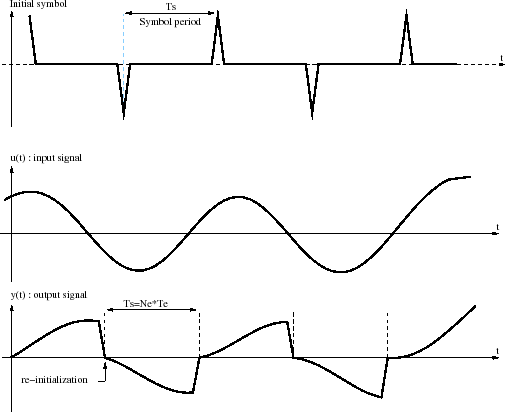 Figure 1:
Input and output waveforms of the discrete integrator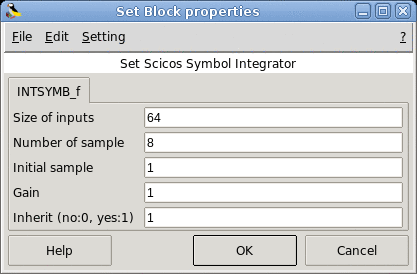 Size of inputs
The size of the regular input port.
Type 'vec' of size 1.

Number of sample
The length of the symbol in sample.
Type 'vec' of size 1.

Init counter value
The initial sample where the discrete integration begins.
Type 'vec' of size 1.

Gain
The gain applied to the regular output port.
Type 'vec' of size 1.

Inherit (no:0, yes:1)
Herits events by its regular input ports (disable the event input port).
Type 'vec' of size 1.
always active: no
direct-feedthrough: yes
zero-crossing: no
mode: no
regular inputs:
- port 1 : size [64,1] / type 1

regular outputs:
- port 1 : size [64,1] / type 1

number/sizes of activation inputs: 0
number/sizes of activation outputs: 0
continuous-time state: no
discrete-time state: yes
object discrete-time state: no
name of computational function: int_symb
MODNUMCOS/macros/scicos_blocks/Filter/INTSYMB_f.sci [view code]
MODNUMCOS/routines/filter/int_symb.c (Type 4) [view code]
A. Layec