Integrated phase modulator event generator block

This block is able to do the generation of phase modulated events.
For each generated events, the phase (that must be in -2*Pi,2*Pi ) is read on the regular input port.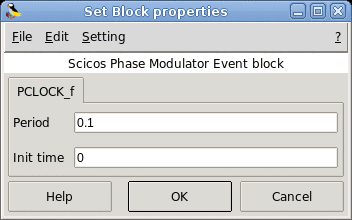 Period
The period of the event generation.
Type 'vec' of size 1.

Init time
The initial time when the event generation begins.
Type 'vec' of size 1.
always active: no
direct-feedthrough: no
zero-crossing: no
mode: no
regular inputs:
- port 1 : size [-1,1] / type 1

number/sizes of activation inputs: 0
number/sizes of activation outputs: 1
continuous-time state: no
discrete-time state: no
object discrete-time state: no
name of computational function: csuper
MODNUMCOS/macros/scicos_blocks/Sources/PCLOCK_f.sci [view code]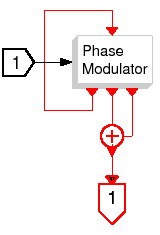 A. Layec