Event discrete buffer block (old block)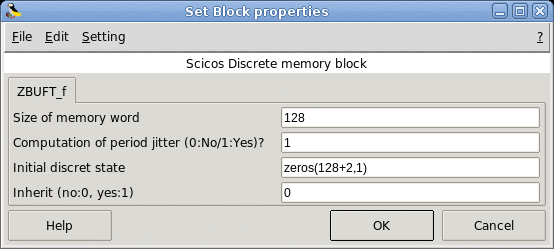 Size of memory word
Type 'vec' of size 1. integer. the size of the memory word

Computation of period jitter (0:No/1:Yes)?
Type 'vec' of size 1. a flag to compute period jitter.

0 only date of event are recorded in discrete state

1 compute and store period jitter in discrete state

Initial discrete state
Type 'vec' of size -1. vector of reals. the initial discret sate

Inherit (no:0, yes:1)
Type 'vec' of size 1. Herits events by its regular input ports (disable the event input port).
always active: no
direct-feedthrough: no
zero-crossing: no
mode: no
number/sizes of activation inputs: 1
number/sizes of activation outputs: 0
continuous-time state: no
discrete-time state: yes
object discrete-time state: no
name of computational function: z_buft
MODNUMCOS/macros/scicos_blocks/Old/ZBUFT_f.sci [view code]
A. Layec