Float modulob function block

This block is a non linear function modulo where the input and output are real values. According to the parameters 'Amplitude', the output can't overflow the minimun and the maximun value of 'Amplitude'.
This block computes








where 'm' is the value of 'Amplitude', 'u' the input and 'y' the output. This function is similar to the scilab 'modulo' function.
The value of the output is positive or zero.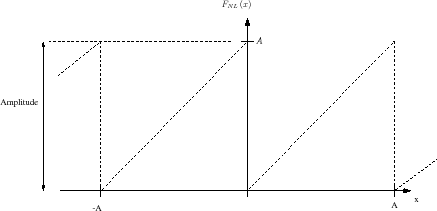 Figure 1:
Positive float modulo function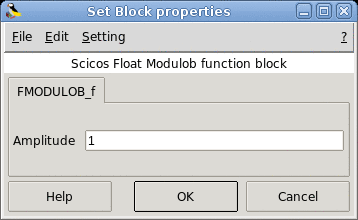 Amplitude
The maximal level of the nonlinear function.
Type 'vec' of size -1.
always active: no
direct-feedthrough: yes
zero-crossing: no
mode: no
regular inputs:
- port 1 : size [1,1] / type 1

regular outputs:
- port 1 : size [1,1] / type 1

number/sizes of activation inputs: 0
number/sizes of activation outputs: 0
continuous-time state: no
discrete-time state: no
object discrete-time state: no
name of computational function: fmodulob
MODNUMCOS/macros/scicos_blocks/NonLinear/FMODULOB_f.sci [view code]
MODNUMCOS/routines/nonlinear/fmodulob.c (Type 2) [view code]
A. Layec