Memory discrete shift register for vectorial signal block

This block is a right shift register. It delays ouput data from input data by a given number of samples. Internal discrete states store the delayed samples and for this inital delayed samples, the values of output element are zero.
The following figure illustrates the case where the input port has a size of 5 samples and where the number of right shift is 2.

Figure 1:
Right Shift Register block for in size = 5 and shift = 2.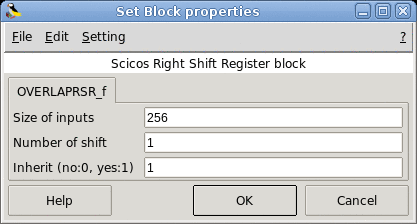 Size of inputs
Integer. The size of the input port
Type 'vec' of size 1.

Number of shift
Integer. The number of right shift
Type 'vec' of size 1.

Inherit (no:0, yes:1)
Herits events by its regular input ports (disable the event input port).
Type 'vec' of size 1.
always active: no
direct-feedthrough: yes
zero-crossing: no
mode: no
regular inputs:
- port 1 : size [256,1] / type 1

regular outputs:
- port 1 : size [256,1] / type 1

number/sizes of activation inputs: 0
number/sizes of activation outputs: 0
continuous-time state: no
discrete-time state: yes
object discrete-time state: no
name of computational function: overlaprsr
MODNUMCOS/macros/scicos_blocks/Signal/OVERLAPRSR_f.sci [view code]
MODNUMCOS/routines/signal/overlaprsr.c (Type 4) [view code]
A. Layec