Single step integrator block by trapezoidal method (old block)

This block is a single step discrete integrator.
The output vector is the integral of the input vector computed with the trapezoidal method defined by the following equation :








where

is the time step,

the input vector and

the output vector.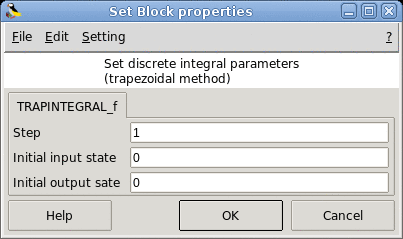 Step
Integral time step.
Type 'vec' of size 1.

Initial input state
Initial value of input state.
Type 'vec' of size -1.

Initial output sate
Initial value of output state.
Type 'vec' of size -1.
always active: no
direct-feedthrough: yes
zero-crossing: no
mode: no
regular inputs:
- port 1 : size [1,1] / type 1

regular outputs:
- port 1 : size [1,1] / type 1

number/sizes of activation inputs: 1
number/sizes of activation outputs: 0
continuous-time state: no
discrete-time state: yes
object discrete-time state: no
name of computational function: int_trap
MODNUMCOS/macros/scicos_blocks/Old/TRAPINTEGRAL_f.sci [view code]
A. Layec
[1] T. Parker and L. Chua,

Pratical Numerical Algorithms for Chaotic Systems

.Springer Verlag, Berlin, 1989.