M-ary Phase Shift Keying demodulator block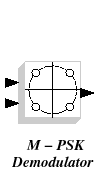 This M-PSK demodulator takes in input two [I;Q] (respectively [u1;u2]) components (real values) and computes a symbol number (integer value) in accordance with the M-PSK modulator block. The phase is evaluated with the equation :








and the block computes the output integer value with the formula:








where M is the number of states.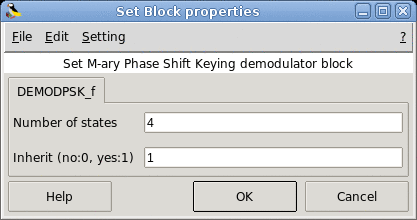 Number of states
The number of state of the modulation.
Type 'vec' de taille 1.

Inherit (no:0, yes:1)
Herits events by its regular input ports (disable the event input port).
Type 'vec' de taille 1.
always active: no
direct-feedthrough: yes
zero-crossing: no
mode: no
regular inputs:
- port 1 : size [1,1] / type 1
- port 2 : size [1,1] / type 1

regular outputs:
- port 1 : size [1,1] / type 1

number/sizes of activation inputs: 0
number/sizes of activation outputs: 0
continuous-time state: no
discrete-time state: no
object discrete-time state: no
name of computational function: demodpsk
MODNUMCOS/macros/scicos_blocks/Communication/DEMODPSK_f.sci [view code]
MODNUMCOS/routines/communication/demodpsk.c (Type 4) [view code]
A. Layec