Generic symbol modulator block

That block is a generic symbols modulator.
Arbitrary constellations can be realized by setting the dialog parameter 'Points constellation' with a vector of complex numbers.
Demodulation can be done with the pair block DEMODGEN_c.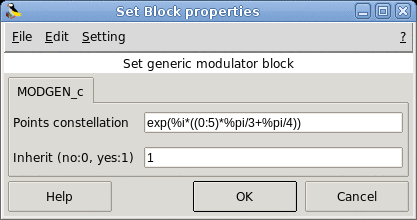 Points constellation
This parameter set the values of symbols in the map I/Q. The used vector can be a vector of complex number of size [1 m], where m is the number of symbols or it can be a vector of real of size [2 m], first row for the value of the I axis and the second for the value on the Q axis.
Properties : Type 'vec' of size -1.

Inherit (no:0, yes:1)
Herits events by its regular input ports (disable the event input port).
Properties : Type 'vec' of size 1.
always active: no
direct-feedthrough: yes
zero-crossing: no
mode: no
regular inputs:
- port 1 : size [-1,1] / type 1

regular outputs:
- port 1 : size [-1,1] / type 1
- port 2 : size [-1,1] / type 1

number/sizes of activation inputs: 0
number/sizes of activation outputs: 0
continuous-time state: no
discrete-time state: no
object discrete-time state: no
name of computational function: modgen
MODNUMCOS/macros/scicos_blocks/Communication/MODGEN_c.sci [view code]
MODNUMCOS/routines/communication/modgen.c (Type 4) [view code]
A. Layec